"There's no such thing as a free lunch."
Welcome to Snack Time & Lunch a one page tribute to Pudge from Animal Crossings. Pudge is a lazy-snack loving bear and one of my favorite villagers ever. So when my buddy Todd, mentioned that a few of us should make Animal Crossing tributes it was pretty easy for me to pick one.
Cherri ♰ Part of Little Jelly
Last Updated: May 26, 2016
Listed: Legendary
What's the Game?
Animal Crossing is about a human moving into an animal village. The player character doesn't have anything to their names except the clothes on their backs. So Nook, a business racoon, sets the character up with a house, a part time job and massive debt. Sometimes, you even play as the Mayor. But all in all Animal Crossing is about day to day life, hanging out with friends and just chilling. There are a lot of villagers, they move in and out, throw parties, make you run errands but they are awesome friends.
It's Bear Time
"Pudge is a lazy, cub villager in the Animal Crossing series. As a lazy villager, Pudge will appear friendly towards the player and will easily become friends with them. His name may relate to his "pudgy" gut. His initial phrase, "pudgy", may also relate to this." ~ AC Wiki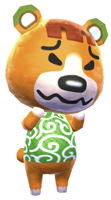 Name:

Pudge (Kinzou)

Gender:

Male

Species:

Cub

Birthday:

June 11th

Phrase:

Pudgy

Personality:

Lazy

Favorites:

Old, Blue

Dream:

to be a chef
Some More Interesting Stuff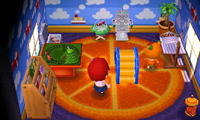 I like Pudge because he is a lazy and snack loving bear. We bonded over snacks the very first time we met. After that, I've always tried to have him in my village. I get so heartbroken when he wants to move or moves without telling me. This time around getting him in New Leaf was a bit hard, because I had no idea how to get him. Luckily for me, some of my friends play Animal Crossing and know how to cycle villagers. One of them (IT WAS TODD!) told me one day on Twitter that he had Pudge and he was moving out and that I could come and grab him when I was ready. I did just that! I messaged him back and politely demanded he open his gate. Okay, mostly it was a pretty polite exchanged. But he helped me get my favorite villager in town. And that's hoe Pudge and I were reunited.
Pudge, like myself, is a Gemini and his birthday is just a couple days before mine. He loves snacks and during Halloween he is afraid of ghost. I really don't blame him. Ghost are scary. He also enjoys a good cup of joe, his style of coffee is blend with just a little bit of milk and one spoonful of sugar. It suprises me a little on the coffee since I take more cream and sugar in mine. But hey best friends can have different tastes!
In French Pudge is known as Gradub, Germany as Betram and Spain as Bollito. All of which I have no idea what mean. But I assume it has something to do with being a bear or a pudge ball. Pudge has the skill of bubble blowing and he generally plays Rockin' K.K. in his house that doesn't seem to have a set style.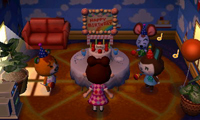 In Animal Crossing the characters can celebrate brithdays, yours and theirs! If you are close enough with them they will throw you a party or attend. If you know them they will invite you to their party. You can bring them a gift and sometimes get cake. On your birthday the villagers pull their money together to get you something, which can be anything from cake to clothes to furniture. You even get to blow out your own candles and make a wish. Pudge's birthday was just the other day (June 11) and today (since my game is a say ahead) was mine (June 15). Pudge actually threw one of my characters a party and it made me so happy! They got me a mama bear. Moose and Carmen were party quest.
Screen Shots!
Move In?
Link back to http://one.piratesboard.net/pudge and don't direct link.












Other Villagers
Do you have an Animal Crossing related shrine? Wanna be affiliates? Then just drop me a line!

Credit Roll
Screenshots were taken by me while playing Animal Crossing New Leaf. Tribute was made using Photoshop CS4 and Dreamweaver CS4. Fonts are Moonstar and Harrington.